Event Details
2021 AC Special Events
Completed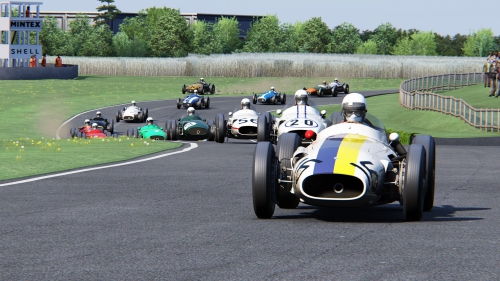 Nils's Vintage Spectacular 2021 Part 1
Assetto Corsa
Goodwood Circuit
GUESS WHAT BOYS IT'S HAPPENING
That's right, time to take your bike tyres out on the road and set your watch back 70 years. This weekend we're taking out the gloriously silly Maserati 250F 6 Cylinder out at Goodwood. This thing can't turn unless you hit the throttle and when you do it still doesn't turn well, but that fits this track well as there aren't really turns; truly a match made in heaven.
This car is not terribly easy, but it is pretty forgiving, as is the track. Go on then, give it a try, you may be surprised at how much fun this combo is.
Registration
Registration for this event has closed.
Nils
Maserati 250F 6 Cylinder
Kevin Kraus
Maserati 250F 6 Cylinder
Gleb Kuzin
Maserati 250F 6 Cylinder
Names in (parentheses) have not yet been approved by the team owner
Names in bold are the entry/team owner
Names in italics are non-ACRL and/or guest drivers
IMPORTANT NOTE - this event has Pre-Qualification requirements you must meet in order to take part. Please read the Minimum Requirements section below.
Pre-Quali (PQ) is needed if the number of entries for an event may exceed the number a single server can accommodate, and/or if we have set specific PQ requirements for an event. In these cases, a period of PQ will be run prior to the race, usually for at least a week, and if necessary the race will be divided into equal size splits, based on PQ times. See the Driver Briefing tab for details of the PQ servers. In championship events, there is usually a points bonus for being in a higher (faster) split.
This event has no Pre-Quali.
There are no results for this event
Names in (parentheses) are not ACRL members
Incident reporting closed on Friday September 24th 2021 07:00 PM Europe/Rome
Briefing
Here's an onboard of my fastest lap during a test race I did to give you an idea of what the lines are and whatnot. There is also a link to the setup I used in the description.
I did happen to accidentally overfuel the car by about 120L so it is a lot heavier in my video than it should be for our race on Sunday.
Password is Bicycle.
Race Info
| | |
| --- | --- |
| Event Starts | 2021-09-19 07:00 PM Europe/Rome |
| Practice | 60 minutes |
| Quali | 15 minutes |
| Race | 45 minutes |
| Mandatory Pit Stop | No |
| Weather Forecast | Ambient temperature will be between 24C and 30C, light scattered clouds, light breeze. |
Pre-Quali Servers
There is no Pre-Quali for this event.
Race Server
This event does not require pre-booking. There is a single race server, with slots available on a first-come, first-served basis.
Server
Password
Spectator Password
ACRL Race Server 1
Bicycle
Content Downloads
The information in this panel is automatically generated from our database. There may be additional or more specific download instructions in the Briefing section
The Goodwood Circuit track can be downloaded from here.
The Maserati 250F 6 Cylinder car is default / DLC content
Workshop Server
Workshops are events held (usually) the day before a main season event, featuring a short race at the same track, under similar conditions, to give people a chance to practice in a live setting.
There is no Workshop scheduled for this event.
Reference Laps
This is a collection of reference lap videos, contributed by our members. Feel free to contribute to this collection, by adding a clip of type Reference Lap to your My Clips collection on the My Stuff menu.
Incidents
Any incidents shown here are those for which penalties have been assessed. There may have been other reports submitted, not shown here, which were judged as racing incidents or otherwise requiring no further action. There may also be other reports which have not yet been processed by the stewards.
Incident Reports (Public)
Video Clips
Logged in members can upload and vote for clips. If a clip is entered for an award, votes count towards the end of season awards.
Post Race Thread
No post race thread for this event yet